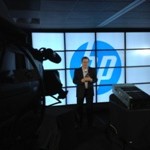 These projects are often inward looking and non-disclosed. But occasionally a corporate client uses the power of their communication backbone to face outward and launch a product. Citizen Doug is on the end of the long tail of contractors as the only audio professional. In this example HP proudly presents a new server that has ridiculous size and network speed in a single enclosure server. Big Data!
http://hpbroadband.com/program.aspx?key=convergedplatform
You must give an email to view.